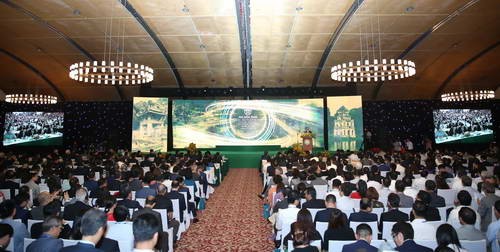 A conference on promoting Hanoi's investment and development (Photo: taichinhcuocsong.com.vn)
Nguyen Duc Chung, Chairman of the Hanoi People's Committee, said that of the 71 projects, 11 are FDI projects worth 5.4 billion USD.
24 MoUs worth about 3 billion USD are expected to be signed between Hanoi and other provinces, cities region, and domestic and foreign investors.
Mr. Chung said that for the first time in 30 years, in the first half of 2018 FDI totaled 5.9 million USD, temporarily ranking Hanoi first in the country for the year.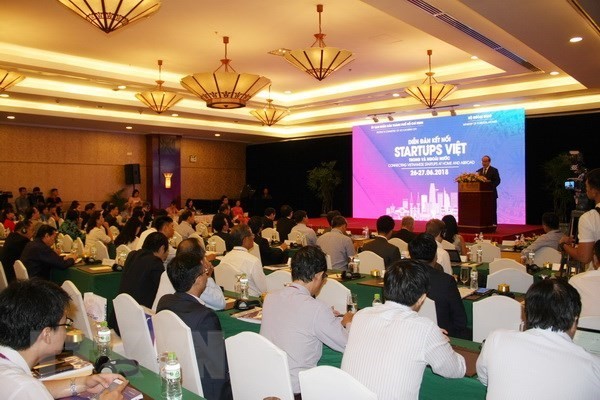 Nguyen Duc Chung, Chairman of Hanoi People's Committee, addresses at the conference (Photo: taichinhcuocsong.com.vn)
Chung said Hanoi will continue to call for investment in high-tech, new-tech, clean energy, regional connectivity and development, and housing for workers. Investors are encouraged to invest in waste treatment, poultry slaughtering and processing, high-tech agriculture, the auxiliary industry, education, and vocational training.
The Hanoi Planning and Investment Department attributed Hanoi's achievements to strong support for investors by municipal agencies - ranging from business registration to removal of difficulties during project implementation.
Tran Ngoc Nam, the Department's Deputy Director, said: "Over the years, Hanoi has always been a leading locality in investment attraction, especially foreign investment. Hanoi has several advantages. First, it is the nation's capital. Second, it's a major economic center. Third, it has a huge geographical scope for investment. Investors readily choose as a place to invest."
At the conference, Prime Minister Nguyen Xuan Phuc presented investment certificates to major projects including a joint venture between Vietnam's BRG Group and Japan's Sumitomo Corporation to build a smart city connecting with the center via the Nhat Tan-Noi Bai axis in Dong Anh District with capital of more than 4 billion USD.
Mr. Phuc said 11 new FDI projects reflect Hanoi"s determination to improve its investment environment, and said he hopes Hanoi will soon lead Vietnam in attracting foreign investment.
Many economists predict that Hanoi will continue to attract foreign investment. Vu Tien Loc, Chairman of the Vietnam Chamber of Commerce and Industry, said: "In recent years, Hanoi has carried out investment promotion activities with greater focus on strategic partners like Japan, the US, Europe, and South Korea. I think Hanoi's approach has been effective."
Investor confidence in Hanoi is reflected in its provincial competitiveness ranking, which has risen for 5 consecutive years. Hanoi currently ranks 13th out of 54 provinces and cities.
Hanoi will continue to improve its administrative procedures, to create the most favorable conditions for enterprises to deploy their projects. Hanoi's administration has pledged to build a transparent investment environment to boost the city's economy and improve the living conditions of city residents.
Nguồn: vovworld.vn